Student Employment Opportunities
Employment opportunities sponsored by National Science Foundation (NSF) grants and managed by Chico State Enterprise arise occasionally. If you are currently enrolled at California State University Chico and have interest in part-time employment in the Atmospheric Lidar Group, please contact Dr. Mayor.
---
Student Educational Opportunities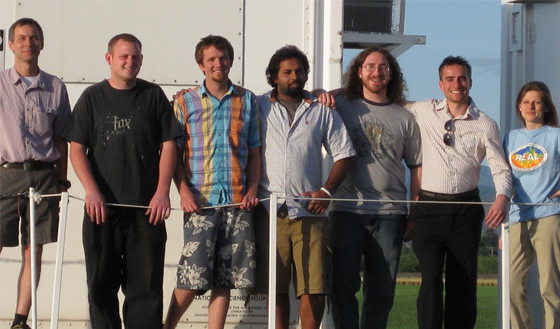 The Raman-shifted Eye-safe Aerosol Lidar (REAL) at Chico State is the prototype REAL and the only one where students can get hands-on experience with this state-of-the-art and increasingly useful technology. A wide variety of opportunities currently exist at Chico State for undergraduate and graduate students interested in learning about atmospheric lidar, the REAL, and applications of it in the atmospheric sciences, air quality, and national security. Students at all levels of education and from all majors are welcome to participate.
Projects may involve:
Operation and maintainance of the lidar system

Using the lidar to monitor atmospheric boundary layer depth

Using the lidar to track aerosol plumes

Solid modeling of the lidar system using SolidWorks

Ray tracing of lidar transmitter and receiver using ZEMAX

Maintenance of high-energy lasers, optics, and opto-mechanics

Optimization of photodetectors and related electronics

Programming to monitor and control the system using Labview

Algorithm and software development to process data using IDL (Interactive Data Language)

Data & results dissemination via webpage design and maintenance

Data processing, image analysis